2022 Jeep Gladiator for Sale in Whitehorse, YT

2022 Jeep Gladiator for Sale in Whitehorse, YT
The 2022 Jeep Gladiator is a trail-ready pickup with a true Jeep experience. At Metro Chrysler in Whitehorse, YT, we have different trims as part of our new inventory for the 2022 Gladiator. Highly customizable and made for off-roading, the 2022 Jeep Gladiator is a pickup truck with its own personality.
2022 Jeep Gladiator: What's New
The Jeep Gladiator brings a number of new features for 2022. This year, a new colour option has been introduced, Silver Zynith. Remote keyless entry is now standard on select trims, and a new cabin filter that removes 95% of air particulates is standard on all models. A standard 7.0-inch infotainment screen replaces the previous standard 5.0-inch screen, while select higher-level trims have a standard 8.4-inch infotainment system with navigation and nine Alpine speakers. Speak to our Finance Centre about your options and own this rugged Jeep in all its new 2022 features.
2022 Jeep Gladiator Interior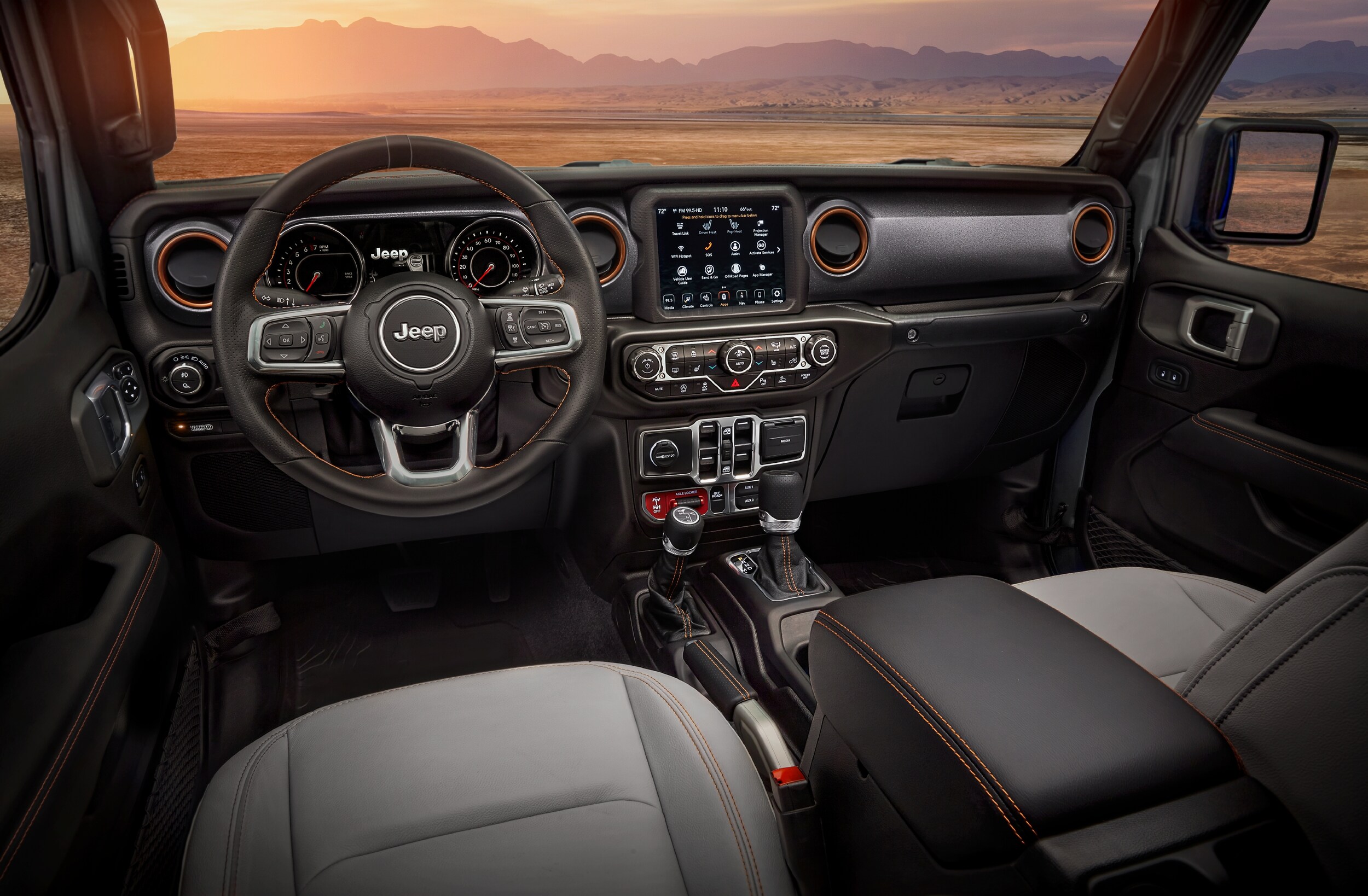 The 2022 Jeep Gladiator is work-ready. It's comfortable through harsh terrains and durable enough for all your adventures. Durable details include a waterproof push-button start. A stretched wheelbase improves back-seat legroom. The incredibly customizable 2022 Gladiator has body and roof panels that can be easily removed to create an open-air cabin. Along with its five-foot cargo bed, smart and convenient storage solutions line the interior of this pickup, such as compartments under the seats. The seats themselves can be stowed in multiple ways and securely locked in place, a perfect solution for when roads are rough.
2022 Jeep Gladiator Exterior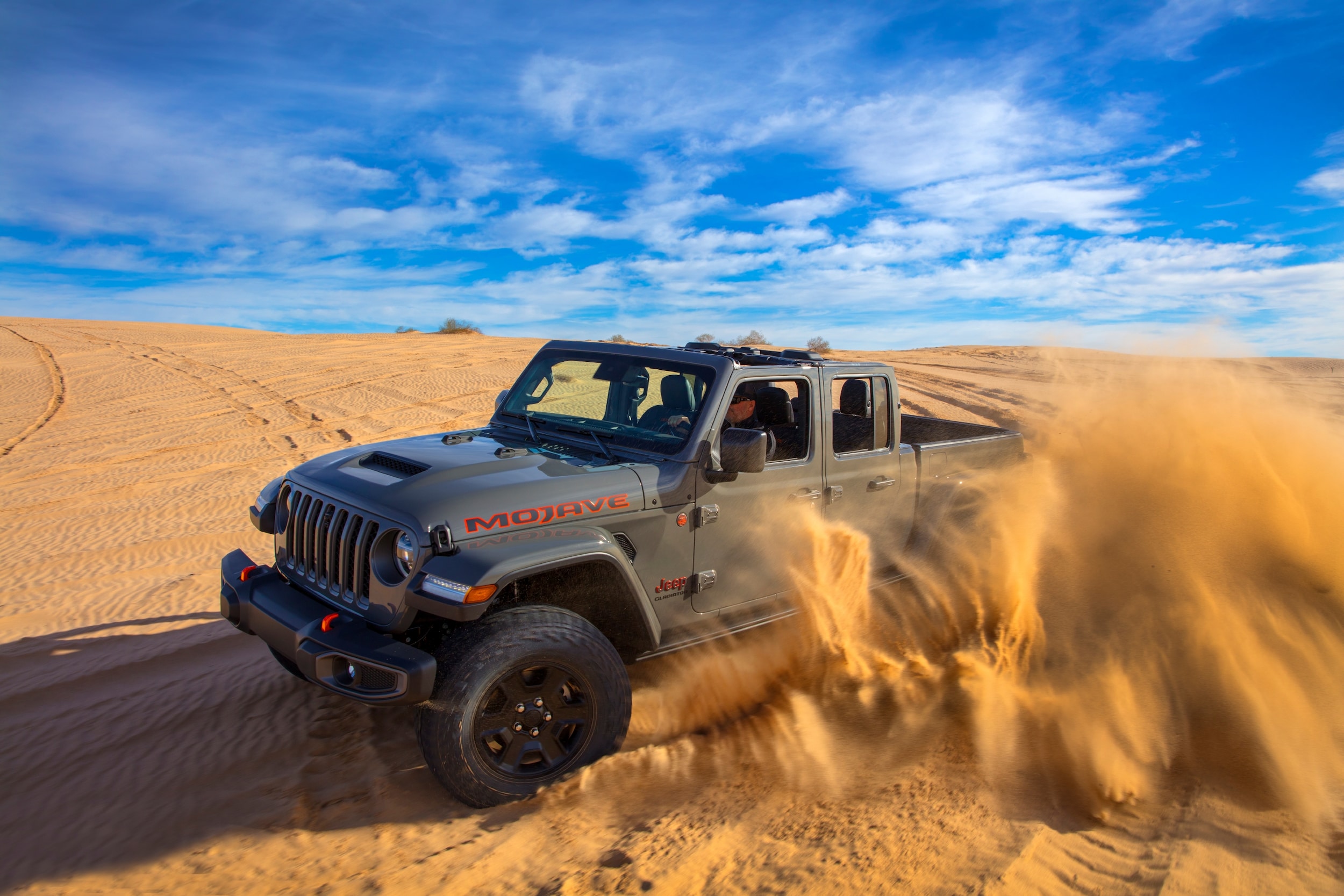 The exterior is really where this pickup shines. When we say it can be customized, we mean everything. The doors and the roof both come off for a one with nature experience. Even the windshield can be folded down! You can get the 2022 Gladiator in a soft black cloth top with a sunroof or a three-piece hardtop. Both tops can be lowered and removed. The 2022 Jeep Gladiator has generous ground clearance and extra 19.4-inches between the front and rear wheels that improve the pickup's ride and handling experience. The spacious five-foot cargo bed has a three-position tailgate, and select 2022 Gladiator trims have massive fender flares with large all-terrain tires and protective rock rails for the lower parts of the cabin and the bed.
2022 Jeep Gladiator Performance
The 2022 Jeep Gladiator engine is a 3.6-litre V6 with 285 horsepower and 260 lb-ft of torque paired with a six-speed manual transmission or optional eight-speed automatic transmission. A 3.0-litre V6 turbodiesel engine is also available and has 260 horsepower and 442 lb-ft of torque. The Diesel engine 2022 Gladiator has a class-leading fuel efficiency with ratings as low as 8.4 L/100 km on the highway. When properly equipped, the 2022 Gladiator can tow an impressive 7,650 lbs and has a payload of up to 1,700 lbs.
This pickup truck is made for off-road capability. Everything from the copious skid plates and rock-crawling axle ratios to its ability to withstand up to 30 inches of water makes it a beast that can tackle any terrain. Fox suspensions take the 2022 Gladiator to the next level. Special Fox shock absorbers, Fox hydraulic front jounce bumpers, and foam cell equipment on select trims allow the 2022 Jeep Gladiator to attack challenging terrains and provide a memorable ride quality.
2022 Jeep Gladiator Safety
The 2022 Jeep Gladiator has a number of available driver-assistance technology features that keep you safe on and off roads. A front-facing camera comes in handy when blazing trails or crawling over rocks. Along with front and side airbags, other handy features for a pickup truck include electronic roll mitigation, trailer sway control, hill start assist, and adaptive cruise control. Advanced active safety technologies also include blind-spot monitoring, rear parking sensors, automatic emergency braking, and cross path detection. Trade-in your old vehicle for a 2022 Gladiator that will provide all the excitement of a trail-ready vehicle along with all the safety technologies you'll need.
Contact Us at Metro Chrysler
Rugged on the outside, comfortable on the inside, the 2022 Jeep Gladiator has the best of both worlds. Get all the power and payload with all the fun of owning a Jeep made for off-roading. Our 2022 Jeep Gladiator review is exciting to read, but it's even more thrilling to witness this vehicle in person. Contact us at Metro Chrysler for more information about the hardy 2022 Jeep Gladiator.