2021 Jeep Wrangler Review

2021 Jeep Wrangler Review
Jeep and off-road activities frequently go hand-in-hand. The new 2021 Jeep Wrangler does not lack the family gut, prioritizing top powertrains, rugged styling, and genuine off-road capabilities. Mixing modern and vintage Jeep characteristics within the Wrangler, an infotainment screen dominates the dashboard's center and can be compatible with Android Auto and Apple CarPlay, plus a WiFi hotspot.
Customize your new Wrangler exterior and interior for total convenience and comfort. You can venture outside with confidence knowing your Jeep is fully customizable and mostly is removable like the rear half doors, rooftop, and windshield to tailor to your off-road experience and needs. Contact us to answer and discuss all your customization questions.
Comfort, Cargo and Colours
The new Wrangler features a more spacious and comfy standard cabin than any of its peers and is available in attractive colours such as Chief, Firecracker Red, Hella Yella and Sarge Green, gaining awes and marching forward. The exterior structure design options typify an important trait in the new Wrangler identity: outdoors freedom. For example, the Sky One-Touch® Power Top, available on select models, opens your Wrangler to the open air with a one-touch button.
The Sport S and Unlimited Sahara 80th Anniversary Edition Jeep Wranglers are available in Canada. Each model has exquisitely distinct external and interior colours for a dominating road presence. Whenever you search Jeep Wrangler for sale near me, make sure to browse our New Jeep Inventory and check out the different selection models and colours.
2021 Jeep Wrangler Trims and Safety Features
The 2021 Jeep Wrangler is available in four trim levels. Sport, Sport S, Sahara, and Rubicon, as well as 16 various models with unique features, to easily meet the demands of the diverse population we serve. The Jeep Wrangler Sport is a two-door adventurous cruiser with a standard soft top, a 285-horsepower V6 engine, and a six-speed manual transmission.
The Jeep Wrangler Sport S has everything you need to get back to basics and experience the Jeep powers that will take you out in the open air and still adds some of the latest Jeep niceties.
A more compact Wrangler is the four-door variant Sahara, equipped with side steps and bigger brakes than the previous models. The standard 3.6-litre Pentastar V6 engine in the 2021 Jeep Wrangler Sahara delivers 285 horsepower and 260 lb-ft of torque.
The most powerful Jeep Wrangler ever built is the new Rubicon 392 with 470 horsepower, V8 engine and 470 lb-ft of torque, plus a plug-in hybrid 4xe to spice things up even more. The hybrid system incorporates a turbocharged four-cylinder engine and an electric motor that whips out 375 horsepower. In addition to the increased electric power, the 4xe powertrain will enable up to 40 km of electric-only driving and a reported 0-to-97 km/h performance of 6.0 seconds.
The Wrangler lineup offers optional latest driver assistance features, including Blind-Spot Monitoring, Rear Cross-Traffic Alert and Rear Parking Sensors.
2021 Jeep Wrangler Interior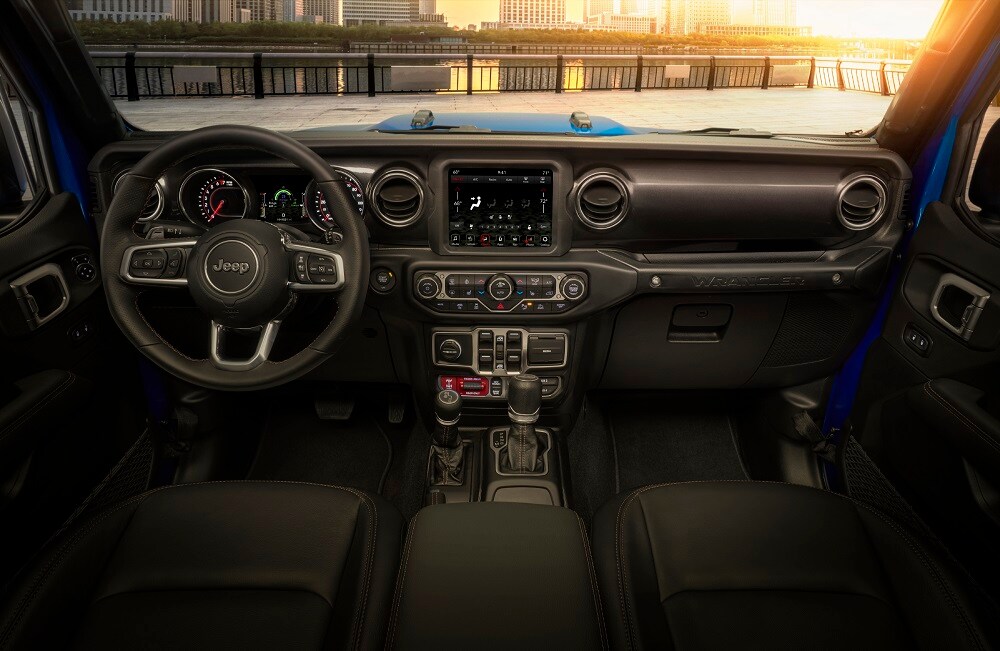 2021 Jeep Wrangler Exterior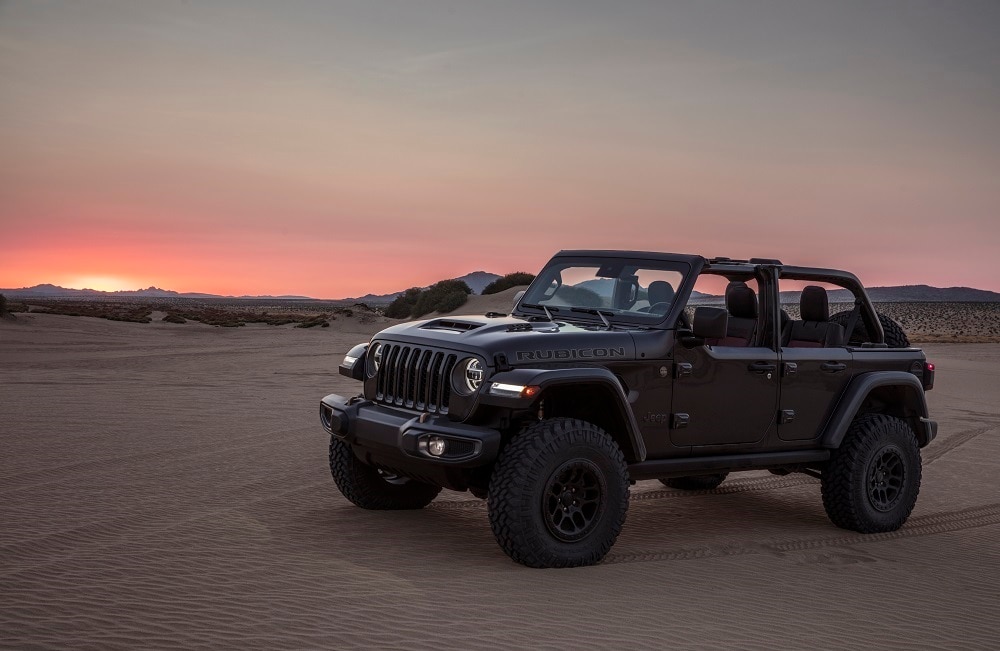 Come Into Metro Chrysler in Whitehorse, YT
Whether you're ready to finance a new Wrangler or just want to step inside the interior and take it for a tour and test drive, the team at Metro Chrysler will help you with everything you need.
Start your online credit application today. Visit our Finance Centre to help you navigate the financial waters of purchasing or financing your new Jeep.
2021 Jeep Wrangler In Whitehorse, Yukon Territory