2022 Ram 1500 vs 2022 Ford F-150
2022 Ram 1500 vs 2022 Ford F-150 in Whitehorse, YT
When it comes to powerful pickup trucks, two come to mind. The 2022 Ram 1500 and the 2022 Ford F-150 are worthy rivals with impressive performance. We want to find the toughest truck that will dominate the roads. Join us as we compare the Ram 1500 vs Ford F-150.
2022 Ram 1500 vs 2022 Ford F-150: Interior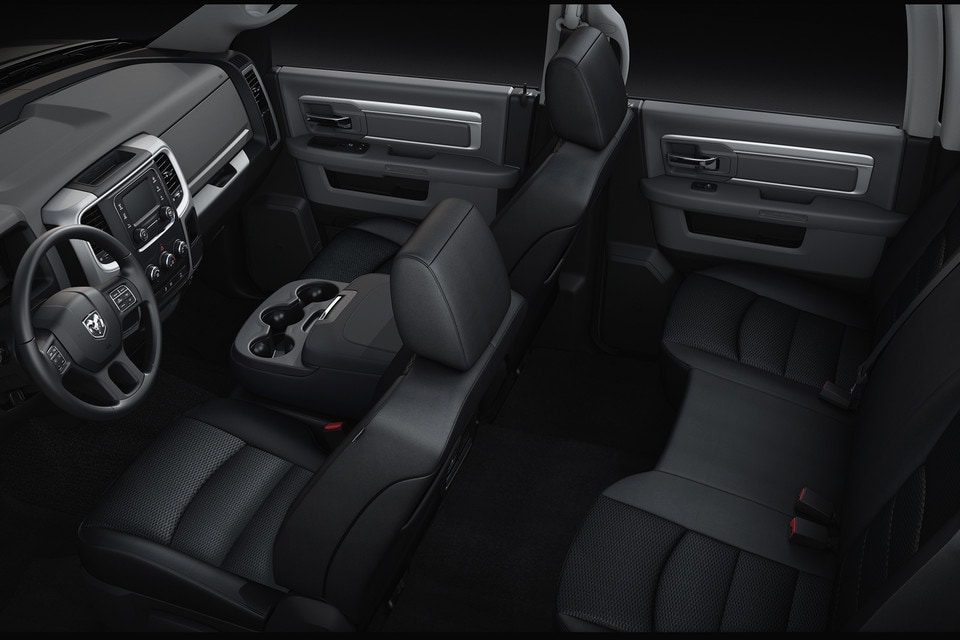 With the roar of the ignition, the Ram 1500 makes a daring statement. Everything from its heavy-duty vinyl interior to the chrome accents adds luxury to the absolute workhorse that is this truck. The 2022 Ford F-150's cloth interior is both sleek and functional. Its centre console folds flat into a work surface. Both the F-150 and Ram 1500 offer safety technologies like adaptive cruise control, automatic emergency braking, and automatic high beam headlights.
Both trucks have a similar array of technologies. This includes Apple CarPlay and Android Auto, USB ports, a navigation system, and a high-quality audio system. The Ram 1500 has a 5-inch infotainment display, while the Ford F-150 has an 8-inch display. Some of the interior highlights for the F-150 include available wireless charging, a heated steering wheel, and an auto-dimming rear-view mirror. On the Ram 1500, you're greeted with remote keyless entry. You can also quickly charge up to five devices in the console.
2022 Ram 1500 vs 2022 Ford F-150: Exterior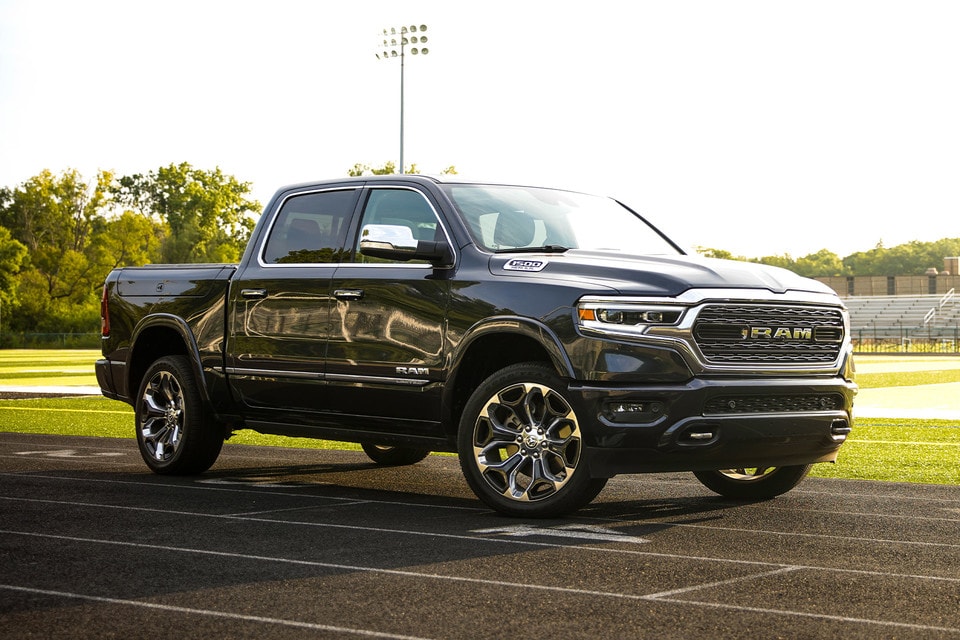 The Ram 1500's exterior is carefully designed and accented with an aggressive black grille and solid bumpers. Our favourite feature on the 2022 Ram 1500 is the tailgate which remotely opens downwards but can also open in a unique 60/40 side split for when you need to get close to the bed. For even greater convenience, the available centre-mounted bed step makes the bed more accessible.
The 2022 Ford F-150's exterior has a military-grade aluminum body that holds a worksurface right in the truck's bed. The open tailgate has a spot for your cellphone, a measuring tape, cupholder, tailgate tie-downs, and seat clamps. These practical details simplify and support your work.
Performance Comparison
Towing and Payload of Ram Vs Ford
For towing and hauling, the F-150 and Ram 1500 are evenly matched. These trucks are towing beasts. The 2022 Ram 1500 can tow up to 12,750 lbs. The 2022 Ford F-150 has a towing capacity of up to 14,000 lbs. The Ford F-150 also has a higher standard payload capacity at 1,745 vs the Ram 1500's payload of 1,242 lbs. However, the 2022 Ram 1500 has a higher maximum payload capacity at 2,322 vs 2,238 lbs for the 2022 F-150.
Both the Ram 1500 and the Ford F-150 offer towing features like integrated trailer brake controllers, rear cameras, and autonomous steering. The F-150 also offers an optional air suspension that enables you to lower the height of the F-150 for easier hitching of a trailer.
Engine of Ram 1500 Vs Ford F-150
The Ram 1500 comes standard with a 3.6-litre Pentastar V6 engine and an eight-speed automatic transmission. This heavy-duty engine has 305 horsepower and 269 lb-ft of torque. The 2022 Ram 1500 features an advanced torque system as standard that adds up to 130 lb-ft of launch torque for enhanced low-speed acceleration when towing a heavy load.
On the other hand, the Ford F-150 comes standard with a 3.3L V6 engine and an electronic 10-speed automatic transmission. This engine provides 290 horsepower and 265 lb-ft of torque. The Ford F-150 has a fuel consumption of 12 L/100 km in the city and 9.8 L/100 km on highways. The Ram 1500 has better fuel economy at 11.9 L/100 km in the city and 9.4 L/100 km on highways.
The Toughest Truck Today
The Ram 1500 vs Ford F-150 make for mighty rivals on the road. While each radiates a distinct and equally powerful personality, we declare the 2022 Ram 1500 the toughest pickup truck. Sturdy, strong, and uniquely Canadian, the Ram 1500 is built for life in the True North. At Metro Chrysler in Whitehorse, YT, we have new Ram inventory and all the latest models. Contact us to test drive this rugged truck and visit our Finance Centre if you're ready to own the road.
2022 Ram 1500 For Sale In Whitehorse, YT At Metro Chrysler